Shafiq Rahman : The Frankfurt Book fair is the most important international trade fair for content, the centre
of the international media world and a major cultural event. Nowhere else in the world does the publishing and media industry show itself from a more diverse, innovative and international side than during these five days in October.In the fair The Omicon publishing house Discover new books and the most innovative digital publishing products.
The 69th Frankfurt Book fair been held at Frankfurt, Germany this October 11-15. Academic and creative publishers association of Bangladesh has participated with their own stall at the exhibition represented by their President Mr. Mazharul Islam, CEO Mr. Kamrul Hasan Shayok, Director for International affairs Engr. Mehedi Hasan and Director Mr. Nazrul Islam Bahar. Bangladesh publishers and Book-Sellers association has also participated along with their own stall represented by their President Mr. Arif Hossain Choton, Vice-President M Sharif Ul Alam, Vice-President Kazi Shah Alam and Director Mr. Amiful Islam.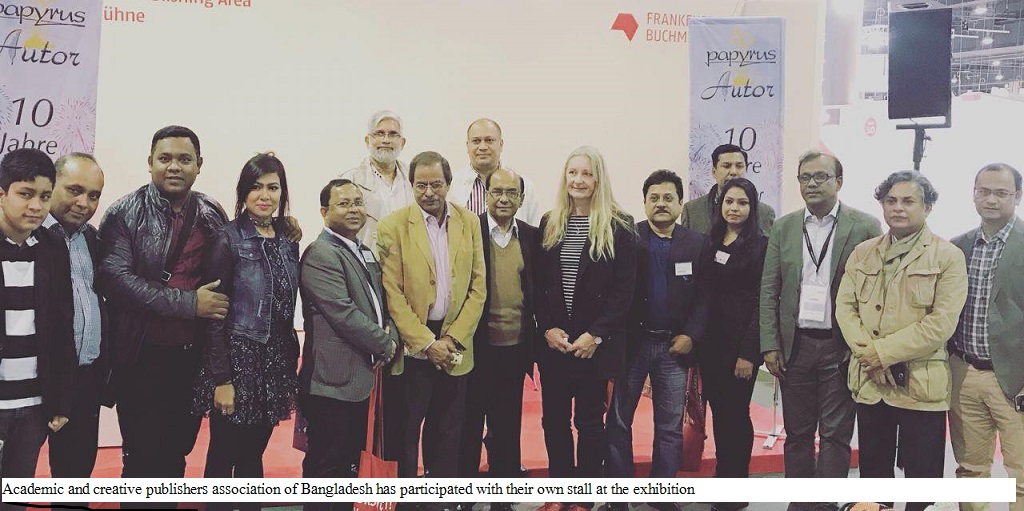 This year from private publications sector Omicon Publishing House, which is the largest organisation of Bangladesh's publication industry, has put up their stall with the representation of their famous brands Lecture Publications ltd, Banglaprakash, Omicon rights agency & belivIT. An efficient team of Omicon Publishing House were present which led by Engr Mehedi Hasan, Publisher and Chairman, M Sharif Ul Alam, Managing Director and Mrs Dola Hasan, Director. Omicon has over three decades of extensive experience in Publications in Bangladesh and with that they have successfully made effective communications with many Publishing leaders of the world. They have had series of meetings on developing ideas, shared information, business strategies and innovations.
Omicon Publishing House have had their own booth at Bangladeshi book hall, and managed to display many books of their own on Bangladeshi history, culture, education, children adventure, literature and poem. Some of those books, which have had remarkable attention, were Poet of Politics, Genocide in Bangladesh 1971 and Attakotha 1971.
Their education books also have drawn remarkable attention to many publishers around the world.  Quite a few of them put much interest in doing business with Bangladesh through Omicon and four International companies already have signed up to work together for this upcoming season.
Omicon Publishing House is honoured and proud to declare couple of their achievements. An agreement was made with I CAN READ one of the world's leading company helping people/students in learning English as a foreign language. The core benefit of this education system is to teach students, parents and teachers under the same programme where all of them learn at their own capacity.
Another agreement was made with Booklings.com.in a business concern of B.Jain Group having its operation since 1966. Bjain group has been synonymous with the quality homeopathy, pharmaceuticals, periodicals, IT, seminars and publications. Booklings.com.in will be presented in Bangladesh as Booklings.com.bd that will be a digital library of books, quizzes, games and much more for children of age 2-15. This will not only help children to read only but also do self assessment for learning and scoring themselves for their own achievement. This platform will help Bangladeshi children to involve in competitions on English, Maths & Science over weekends. This way our children can show the world that what kind of talents they have in them.
These have never ever been introduced in Bangladesh before and Omicon Publishing House is very excited to bring these programmes for future generation. Bangladesh is a faster growing country and usage of English language is a necessity. Omicon publishing house is under tremendous privilege with its greater vision for our nation's growth and prosperity with bravery progression. These programmes will definitely prepare our children with full of confidence for this modern world.
Omicon Publishing House strongly believes that this innovative step will bring revolutionary progress in every dimension to our education sector and will strengthen communication skills in English. With the help of these supports our country will surely grow with lots of possibilities, prosperity and opportunities around this world.